Staffing Redefined
Domestic Excellence Global Out Reach
We have mastered the art of staffing for powerhouse businesses, since commencing our initial operations. We have a strong associate base of professionals working across the organizational structure. Our commitment has earned us a diversified portfolio of clients and a team with rig ht skills, which enables us to address Human Resource requirements effectively. Working closely with our clients and the talent hired, enables us to understand various bottlenecks on both sides of the table. This vantage point enables us to anticipate their needs better and thereby bring in the right solutions for all in due course of time. We are privileged to have earned the confidence of all sectors on our expert staffing solutions.We have been offering end-to-end staffing solutions, while sourcing the right people with the right skills. The sector-wise range of profiles includes:
General Staffing
Tele Callers, Inbound and Outbound Tele Sales, Tech Support, Customer Relationship Managers, Chat Process, Back-end Support team, Front Office Executives, Venue Consultants, Sales Executives, Marketing and Research Executives, In-shop.
Promoters, Merchandisers, Billing & Collection Executives, Engineers, Architects, Lab Assistants, Chemists, Nursing & Paramedical Staff, Safety Officers, Quality Analysts, BMS Operators, Picker & Packers, Drivers, Loaders & Unloaders, Bikers, Farm Workers, Machine Operators, Boiler Operators, Carpenters, Painters, Electricians, Fitters, Welders, Helpers, Stewards, Cook etc.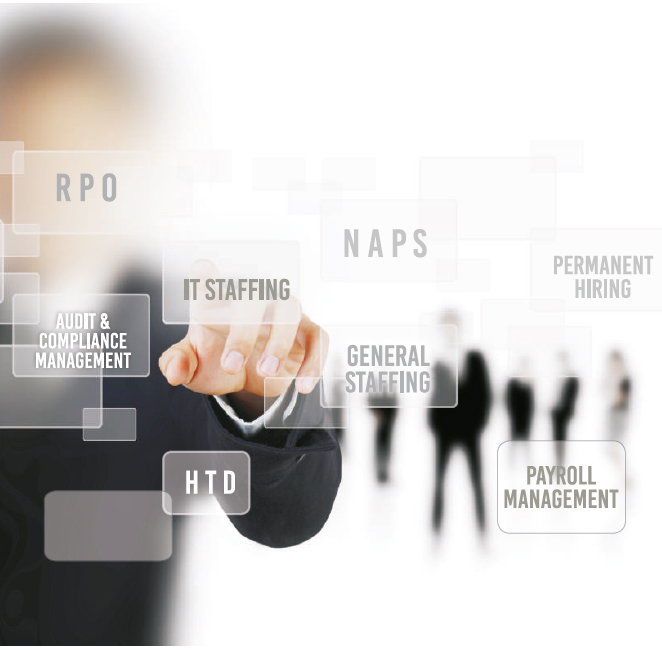 IT Staffing
Programming Technologies, Full Stack Technologies, Database, ERP, Testing, CRM, Infrastructure, Analytics, ETL, BI, MS Skills, Cloud / Big Data, DS/ML
ISO 9001 : 2015-QUALITY MANAGEMENT SYSTEM
OHSAS 45001:2018-OCCUPATIONAL HEALTH & SAFETY MANAGEMENT
THE KERNAL CLUB OF INDIA
FIRE & SECURITY ASSOCIATION OF INDIA (FSAI)
HYDERABAD MANAGEMENT ASSOCIATION(HMS)
SOCIETY FOR CYBERABAD SECURITY COUNCIL (SCSC)
FACILITY MANAGEMENT ASSOCIATION OF INDIA (FMAOI)
CENTRAL ASSOCIATION OF PRIVATE SECURITY INDUSTRY (CAPSI)
INTERNATIONAL INSTITUTE OF SECURITY & SAFETY MANAGEMENT (IISSM)
THE FEDERATION OF TELANGANA CHAMBER OF COMMERCE & INDUSTRY (FTCCI)